It was today at about midday when Shaib, Mildred and I from Map Kibera Trust agreed to go on a journey that we have never tried before. Let's go to Nairobi dam! I told them, what are we going to do there? Is it swimming or looking at the vegetables that flourish in sewage as their fertilizer? No! No! Let's just go and take a walk around our motherland – Kibera. I had to arm myself with a digital camera even though its memory is disturbing and it can be disgusting especially when you want the photos taken uploaded to be used for our reporting work. On the other hand Mildred decided to pick her tool that she knows how to use, the GPS for mapping some of the newest points that we might have met along our journey necessitated by the urge to see/visit Nairobi Dam.
"Sometimes in life you just have to keep on keeping for you never know when an idea that will change your life for good will come from" I said to myself as we got out of the comfort zone of the office to take this walk that we knew little about its results. Just after we had crossed the railway we met some young ladies who were putting on T-shirts with this… "MSF – Belgium,How to Respond to rape", we had to find exactly what they were doing. After a discussion with one of them (Dorothy), we were now able to see why our trip to this Dam was shaping up….at least getting to gather news on the go!
The photo above is one of the many routes to Nairobi Dam just near where scores of people went blind after drinking illegal brew. How do the drunken people in this area survive walking on this kind of route? Do they then sleep in this trench that is full of human and animal waste when they are drunk and can't be able to pass the route? One day I will find out.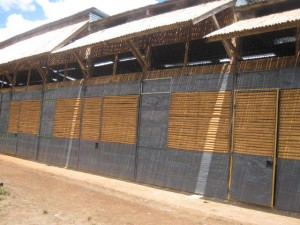 We managed to capture this exciting building that in our view was worth finding out how and why they used this design to build it. Mr.So a teacher at the St. Mary's school offered to talk to us about the whole idea behind it. "He who pays the piper calls the tune"…..a saying that everyone in town knows about is something that rang in my mind for it was funny to learn that the donor who was willing to support the project, wanted this design and this is why it was built. No other reason was given but in my own imagination I assumed that this is a pro-environment kind of building for if you look at the building materials they have used, at least trees have been spared. Isn't it great?
"Oh! My little angels…. I was like you years ago and I perfectly understand what you are doing now" As I took this photo lots of questions crisscrossed my mind, where are their parents? Maybe it is because of the poverty index that many leave their young ones an attested to so they can be out there to try and make the daily bread. But think of this scenario…..! I have this fat with a big stomach traffic policeman extorting money from matatus, and this parents who are out struggling to make ends meet in the right way, whom do you think is in touch with reality? If they are all given a simple test of defining the word 'POVERTY' who will be at easy to define it correctly? My many questions about the kids still continue….! How can you be walking bare foot in this environment? Do you know who you will be when you grow up? If 30 years to come you were living in Runda (One of the posh areas) would you honestly admit that I once saw you half naked here?….This photo helped me think and at the same time recollect from this trip what I can be able to do together with my trip-mates to highlight some issues in different parts of Kibera even when we are not there. Watch out for what we are planning to do in the few coming weeks.