If you visit Kibera you will see the shantties, the dirt, the broken pipes, the street children which are vivid in one of the biggest slums in Africa. Apart from all these you will not fail to spot bussiness minded enterprenuers. You will not fail to spot the kiosks', the shops and a supermarket in Kibera. Yes, a SUPERMARKET if you are shocked, its locates in Laini Saba ward. And these brings us to our todays topic which the residents have not turned their backs on – Enterprenuership.
Enterprenuership is the process of discovering new ways and combining resorces inorder to make profit.
-Take an example here in Kibera a shopkeeper will buy 5 grams sugar packets which he sells at 5 Ksh/packet.
-Calculating this after selling 200 packets which is equivalent to 1 Kilogram he will be able to get Ksh. 1000 which is Ksh. 900 profit than if he sold the 1 Kilogram packet at Ksh. 100.
An enterprenuers cost of production are determined by the prices required to bid the necessary resources away from alternative uses. Any enterprenuer who wants to excell and do well in Kibera should be well prepared because of the competition around. One should always have another stock ready whenever the first goes out of stock. This has caused these business minded people come together and form their local micro-finances which are known as 'Chammas'.
A good example what happens in Laini saba. The enterprenuers come together and form groups of 10 or 20 people, they would then be keeping money lets say Ksh. 1000 every week and one person in the group will be receiving Ksh. 20 000 very week from the group in a rotational basis. These helps them very much that they can get new stock of their products with their own cash. This Chama thing is widely spread here in Kibera with the most active members being women and girls. It has really helped women set up businesses and shop which is their source of income.
With the cropping of technology the enterprenuers are coming up with new ideas. In Laini Saba, Makina, Karanja, Olympic and the DC you will come across Cyber Cafes where people can access the internet. These has really helped a lot as it did not use to exist 2 – 3 years ago. Now you will find Kibera enterprenuers setting up new shops and kiosks according to the time time and need of the commodity putting into considerations they will face a tough competition from their fellow enterprenuers. These encourages the enterprenuers to offers the best services inorder to get more customers.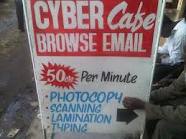 When it comes to entertainment the enterprenuers are not always left behind. You will come across more than 50 entertainment spots ranging from pubs, sports halls and small cinema where many people go to entertain themselves during weekends and their freetime. A small video show is guaranteed to give the owner more than Ksh. 1000 per day and Ksh. 3000 during weekends from sports halls which mostly air the English Premier League live.
Enterprenuership is something which has really helped many families in Kibera and we see it growing each day. Although these people have not been able to get education on enterprenuership they have been able to watch and learn and in the long run to come up with something productive. With some organisations cropping up to teach the people of Kibera community some enterprenuership skills we cannot lie when we say that 'The future is bright in Kibera'.