Recently almost a week now there have been lack of water in different parts of Kibera. The water situation has affected the likes of Mashimoni, Lindi and Laini Saba just to mention but a few villages in Kibera. People have to wake up as early as 4.00 am to queue in long queue inorder to get some water for the day. By early as 9.00 am you come around empty taps which had water on the normal ordinary day. The small taps in parts of Kambi Muru have also started to rust due to lack of water for sometime.
The situation now is that the 'Early bird catches the worm' for people who wake up late have to walk long-distances to get water for there usage for the day. Hawkers with wheel-barrows and carts are seen around transporting water to hotels and homes in which they charge double or triple compared tonormal price.
The reason for the water shortage is not fully identified with water seller claiming it is water recession around Kibera while others saying its the water dealers cutting water inorder to get paid first to restore the water or the recent drought around could have caused the water shortage.
All in all something has to be done because some people have stopped their businesses due to the scarcity and some have to leave for work late because of the long queues experinced around water tanks.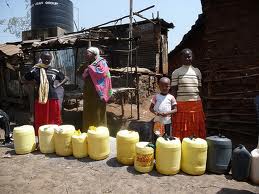 Around the west of Kibera in places like Gatwekera and Soweto west we have Non-Governmental organisations who have come up with water projects which has helped in suppling water to the residents around there. These are the places the water hawkers go to get water for hawking to specific destinations where we have water scarcity. In these places you will find water been sold at Ksh. 2.00 compared to their neighbours in Mashimoni or Lindi who sell water for Ksh.5.00 per jerican.
The government has played a part in water supply around but the residents feel that they deserve more compared to the our places in the Nairobi county. The water projects in the West of Kibera should be introduced to the other side of the surbarb inorder to conqure and do away with these water problems.