So much has been said and done, almost in each and every slum in Nairobi, with the sole purpose of preventing any violence that might occur, or re-occur in this context.
The civil society has come up with many different initiatives, over the years since the 2007/8 post-election violence, to help promote peace & togetherness within the ethnic communities that live in the informal settlements in Nairobi, Kenya
To some extent, this has worked and we cannot deny that. however, every small trigger of violence or protest always reminds us that there's a little more homework to be done.
I do agree with you, that the last general election, 2012/13, was relatively peaceful in comparison to the 2007/8 elections. but it still wasn't spared a protest, or two here and there.
And just a few days ago, after what was considered a peaceful march by those working with NYS (National Youth Service)-Driven slum upgrading projects to allegedly demand for an extension to the project which was expected to end this June, and will eventually come to an end in the long run.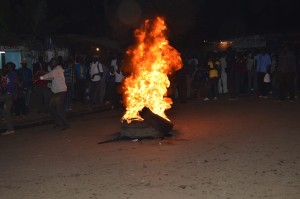 (Photo by Joshua Owino)
there erupted a follow-up protest by youths from Kibera who felt that the NYS workers had wrongly accused the former area mp of meddling in their affairs, and even went ahead to burn a toilet built by the NYS.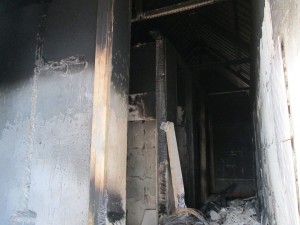 Photo by Joshua Owino
Kibera News Network accompanied the marching NYS workers and from what could be gathered, it was clear that most of these workers didn't even understand why they were marching, some had it that they were demanding for time extension to the project, yet some knew that they were protesting over what they termed as unnecessary interference by the former prime minister, who has in the recent past pointed out alleged corrupt practices at the ministry of devolution, or both. most of them were vague about it. but at the city centre, politics took centre stage with most of the workers chanting anti-Raila slogans, obviously leaving the vague workers showing there confusions openly.
It was funny when some workers interviewed during the match admitted that they are paid less and wanted the money increased, and time line extended.
 (Photo by Joshua Owino)
My point is drawn from here, are protests, and more so violent protests, that include burning of property,  the effective way to put issues across? especially in informal settlements. if not, what are other channels that can be explored and how well we explore them.
Stephene 'Steve Banner' Oduor
Map Kibera