Poverty is a lifestyle that one finds themselves adapted to either knowingly or unknowingly. The high rate of HIV/AIDS prevalence makes it even worse, not forgetting the high inflation rate that's leading to the skyrocketing of prices of the basic commodities.
Here, no one seems to care about the other, you have to survive on your own! The marginalized areas are not spared either.
The immune system gets weaker and weaker to those who can't afford to get food  to meet their nutrition requirements. Some end up feeding, not to strengthen their immune system but just to fill their stomachs.
There are widows and orphans, how do they survive in this competitive environment, where everyone is on their own? They are faced with stigma and are isolated from the rest of the community.
It is through these tough conditions that jitolee women crafts was borne!
Upon meeting in a support group for people with HIV/AIDS, in 2003 the 6 founding women of Jitolee Crafts acquired the skills and starting supplies to make traditional African crafts. That same year, Jitolee Crafts created an HIV/AIDS awareness pin that was worn by the Kenyan president.
Today, the group has expanded to 15 members and continues to innovate new designs.
Among the founding women is, Caroline Achieng Obuka was born in 1965 in Kanyadhi, the birthplace of Barack Obama Sr. She was orphaned as a baby and so was unable to attend primary education. After moving to Kibera, she began to take in laundry for a living. Unfortunately, when she discovered that she was HIV-positive, her clients did not return. Because of misunderstanding of how the HIV virus is transmitted, stigmatization against HIV-positive individuals is harsh. Desperate, she switched to beadwork, which constitutes her only source of income at present.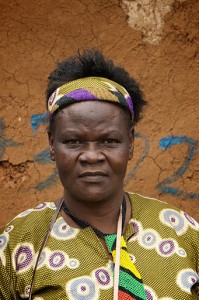 Carolyne Achieng.
Caroline is mother of three girls of 20, 17 and 15 years of age and a boy of 22 years of age; none of which have been infected. She also cares for two orphans. With her brother's support she is able to afford primary education for two of her daughters. However, after the loss of her husband and her younger son to AIDS, times have become even tougher.
Despite her hardships, Caroline still believes in the power of laughter and has never lost hope for her children's bright future.
Jitolee Crafts' main goal is to provide HIV positive women with the means to reduce the stigma of HIV/AIDS within their community, build a support network that encourages healthy decisions, and generate income for themselves and their children.
The women at Jitolee Crafts aims to do this through making and selling traditional African crafts ranging from necklaces, bracelets, rings, pins, belts, bags, keychains, and various wire crafts. Some products are focused on Kenyan identity as well as HIV/AIDS awareness.
Jitolee Crafts has been operational since 2003. Since then the company has relied much on word of mouth to promote its business. The primary distribution channel is at the women's homes which are accessed by customers through tours of Kibera and through personal networks. They are unable to find a selling place at the other African crafts market places because the charges of displaying their products are unaffordable to them.
Their profits are used to settling the bills i.e., rent, electricity and water, besides they have to buy food out of this and also have to cater for the education of the orphans under their care, which makes the burden more unbearable.
The group has been able to expand in its number of members but has not been able to achieve greater profits because of some major barriers, namely access to appropriate marketplaces and customer bases.
Jitolee Crafts intends to overcome these barriers with the use of a business loan that will provide the group with additional raw materials and marketing materials. Previously, the ideas of brand identity and additional product marketing have not been employed.