Fire
In the recent past Kibera has witnessed fire incidences in various locations within the slums. Most recent fires have been reported in Laini Saba, Olympic, Bombolulu, Toi market and Gatwekera villages.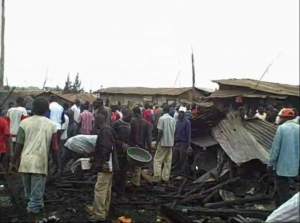 But what is the major cause of these fires?
Looking at the infrastructure of Kibera a larger part is an informal settlement where many people cannot comfortably afford the basic necessity in life. Due to the fact that electricity pass by their homes they are forced to do illegal electricity connections by tapping the live wire and improvising the ground wire, which in turn lead to electricity fallout. This causes over consumption which over powers the transformers hence explosion which cause fire.
Other causes are stoves, gas explosions, lanterns and candles which are often left unattended hence cause fire.
Remedies.
The government to enforce strict laws to govern the electricity distribution and a way to monitor the consumption of fire in the informal settlement. People should get the knowledge to handle electricity gadgets and gas cylinders to ensure safety of the people.
Guardians and parents should be more extra-cautious when leaving their children when the electricity is on in the house.
Poor Infrastructure
Most informal settlement have poor infrastructure because they have been ignored for too long. This has retarded the development of the area, for instance inaccessible roads. During fire outbreaks it is not easy to maneuver to tragedy scenes. It is not easy to get to patients during emergencies and police are unable to do patrols during criminal incidences in different locations.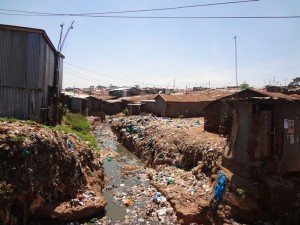 Poor drainage systems especially during the rainy season cause disasters such as houses being swept away, impassable roads, loss of property and sometimes loss of lives.
Falling of Building in the informal settlement is caused by:
 Poor survey of construction land
Unqualified engineers and unskilled contractors
Heavy rains/bad weather
Poor/Low quality materials for construction
Low wages to workers hence low motivation
Hurry to finish the construction
Remedies
Infrastructure should be improved to ensure good drainage systems to do away disasters caused during heavy rains. Good qualified surveys and constructors should be call up for the task during construction.
VOK Team