It was 30th march 2013, the day map kibera trust's video program, KNN. together with langata youth network came together to conduct a community screening that also incorporated a youth forum to discuss ways of avoiding violence at the height of tension as people awaited the supreme court ruling. it was held at orthordox church in kianda village, Kibera
The day started by KNN screening a short documentary on the whole process of election from registration to the post-election period,
after which an exclusive interview of langata youth network's Dan Orogo by KNN was screened, in which Dan tackled the possible scenarios that bring about conflict in Kibera and several ways to deal with it. in the interview he also urges the residents to remain calm amid the heightened tension that marked awaiting of the verdict.
Langata youth network's Richard otira later came in to build on the need to live peacefully no matter which verdict the court gave, He and KNN's Joe Gathecha later led an interactive session in which members present discussed ways of dealing with tension, hatred and negative ethnicity in slums.
Map Kibera Trust's director Kepha Ngito gave a short address on the need to live peacefully and how citizen media can help cub the tension. He also urged the participants to report on whatever is happening around them that need to be reported, and with these the voice of kibera sms reporting number was shared.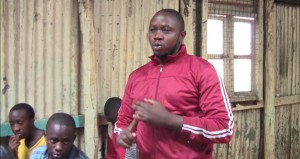 The forum ended with both map kibera and lan'gata youth network comiting to work together in future on such forums. that was shortly before the supreme court ruling.