Since Stone Age, different cultures across Africa, have embraced circumcisions. It is either performed for religious reasons or as an initiation rite.
Male circumcision is surgical removal of the foreskin – the retractable fold of tissue that covers the head of the penis. The inner aspect of the foreskin is highly susceptible to HIV infections. Trained health professionals can safely remove the foreskin of infants, adolescents and adults
It was not until 2007, when the World Health Organization emphasized more on the circumcision, not as a rite or for religious reasons, but as a strategy to preventing HIV infection, mostly in marginalized areas and in informal settlements where the prevalence is high and with minimal levels of male circumcision.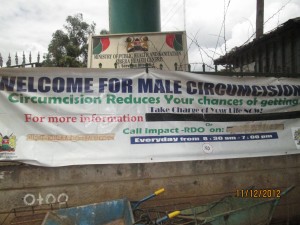 A banner of VMM in Kibera.
Voluntary Medical male circumcision (VMMC) reduces the risk of female-to-male sexual transmission of HIV by approximately 60%.WHO and UNAIDS have recommended voluntary medical male circumcision as an additional important strategy for HIV prevention, particularly in settings with high HIV prevalence and low levels of male circumcision, where the public health benefits will be maximized. Fourteen countries in Eastern and Southern Africa with this profile have initiated programmes to expand male circumcision.
In Kibera, quite a good number of residents had not gone through the " cut" as many could not decide as some  are still blocked by the  outdated traditions.
"Initially, men who turned out for the " cut ", they were given incentives, so as to encourage them bring more friends for the same as there was a very low turnout," says a Healthy Officer in one of the health centers  in Kibera.
The one time intervention medical male circumcision saves costs as many people spend a lot on antibiotics and antifungals that has an otherwise remedy ,"a simple cut". It is also a way of averting new HIV infections and reducing the number of people needing HIV treatment and care.
"The process lasts up to between 20 to 30 minutes. Analgesics, such as Paracetamol, are used to manage the pain, the stitches should dissolve after four weeks, and complete healing is after two more weeks." ascertains a medical specialist at a Kibera clinic.
The communities have embraced the idea. The awareness campaign done in Kibera by the Population Service International and the Ministry of Health saw an overwhelming turnout. Civic education and advertisements on the media have also played a big role in creating the awareness for this worthy course.
The service also extended to Kawangware, a neighboring Kibera slum, besides, the services are also being offered across Kenya for free in all Government hospitals.
The target is, by 2015, to have   80% of Men aged between 15-49 through the "cut", and the expected projection is that by 2025, the reduction of new HIV infection will be by more than 20%, Said a report released by the Global Advocacy for HIV prevention.
Any worthy process does not lack challenges, so is to the Voluntary Medical Male Circumcision. Some of the shortcomings are; Some Kenyan traditions do not permit circumcision, and also lack of enough trained medical personnel to stretch across the Country.
Male circumcision is a proven intervention that offers partial protection against sexually acquired HIV in men. WHO and UNAIDS recommend that it should always be considered as part of a comprehensive HIV prevention package which includes:
HIV testing and counseling; Correct and consistent use of female or male condoms; Treatment for sexually transmitted infections and Promotion of safer sexual practices, such as avoidance of penetrative sex.