Kibra constituency, regarded as one of the strongest Kenyan opposition strongholds, has always done the best to keep up with Opposition leader Raila Odinga's moves without any questions whatsoever.
Even when the opposition leader changes political parties or makes new political alliances, his followers from Kibra have always have a way to embrace and keep tab with all the moves, In most cases welcoming every move without any question, and standing with the belief that 'Baba' is always right.
However, almost for the first time, something caught them completely offguard in the history of Kibra politics, or former Langata constituency, as a whole. And it wasn't the issue of Kibra land title deeds that have always brought confusion all over. neither was it the railway line and road reserve evictions, both of which have become big issues in Kibera.
Noo, It was something else, something that alot of the opinion sharpers in Kibra seemed to have almost no opinion over.
Yes, the now much whispered about Handshake between Rt. Hon. Raila Odinga and President Uhuru Kenyatta. It is whispered about because many people are a bit afraid to talk about it openly, since you can never tell, for the first time in Kibra, whether the person you are going to speak to supports it or not. and so you don't want to appear to be in the wrong side with what everyone else feels about the handshake, which until much recently, thanks to Miguna Saga, was hard to tell.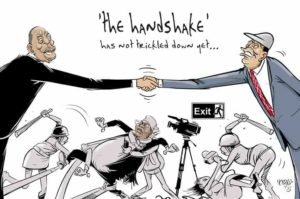 (Pic is from a Random Online Source)
Right now, there seems to be a gradual shift of loyalty among Raila Odinga followers in Kibra, with a good number now seeing him as a sell out of some kind, considering all that took place following the post-election protests in which Kibra paid heavily.
We are now just waiting to see which political direction the former Raila Odinga loyalties will take considering that almost no one is saying anything openly, even in their weekly political gatherings, which now focuses more in in-house issues from Kibera rather than the larger political settings. and anyone who has an opinion on Raila Odinga and party issues is choosing to whisper about it instead.