I was assigned to team one alongside two ladies, Clare & Gladwell on on our first field day. we also had Kibera News Network's Eddie Juma as our camera person joining us for day one field day.
Day one was quite smooth, most of the schools we went to already had an idea of what we were doing thanks to the text messages they had received from the area APBET chairman, one Mr. Evans, about the Open schools mapping in Kangemi prior to the exercise kick off.

Day two of the schools mapping it was just the three of us (Clare, Gladwell and myself), our camera person from day one, that is Eddie Juma, had been assigned to a different group. just like day one, we didn't have a hard time since the schools we went to already had an idea of the work we were doing from the texts and briefings they had earlier.
However, it couldn't go without having one or two cases of school heads uncomfortable with giving information to strangers. there was this headteacher from a school known as 'Genius school' who thought we were working with a team known as WORK who she accused of having given her fake promises of how they will improve her school, which were not fulfilled, and so she was very much uncomfortable with the mapping and especially being asked questions she saw as too personal. she however let us ask the questions anyway and still answered them. she was also against taking pictures but still let us take them anyway.
the other interesting school we visited was one we found closed, apparently because of a funeral that was underway and from our observation we could see that one classroom had been brought down to give space for burial.
we also visited a school, Meta Meta, that doubled up as children's home and the owner had newly born kids, probably less that a month old, who surprisingly were orphans. she told us how she has raised all the children in her center by herself as she is the only parent they have known. she schools them up to grade 6 then take them to government schools where she is also the one who takes care of everything until they are old enough. she has 3 sleeping rooms for girls and a similar number for boys all inside the premises.
later that day I developed a fever and headache and Clare from my team also happened to be a community health nurse so she took me to a nearby health center and tested me for malaria then made me see a doctor.

Day four which was also another field day we had Zack, Map Kibera lead mapper, join us in the field. we went back to the school that had a funeral and this time round it was open. only that the teacher wasn't around. "he's been gone for over two hours but will be back shortly', said one pupil who also wanted to know what time it was and celebrated when we told him that it's almost midday.
in one school the gatekeeper didn't even allow us to go past the gate but called the 'headteacher' outside to speak to us. who, after listening to us introduce ourselves and read the letters from the MP and the District Education Officer, still said she's not the one in charge and went to call another 'more senior' teacher who also listened to us do the introductions all over again but also said he's not the one in charge and will get back to us when the person in charge is around. so Zack had to leave behind his contacts.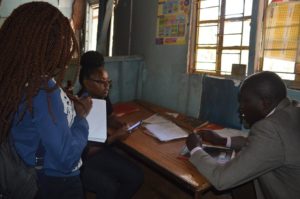 Day five we had Joshua, Map Kibera Project coordinator, join us in the field and I should say it was one smooth day. every school we visited was cooperative either from the way we introduced ourselves or from the fact that they had already been briefed about the project and already expected us.