At least three people were believed to have died after a flood swept away a section of Gatwekera village in Kibera due to the on-going heavy rains. 
Here is the map of Kibera's areas affected by the floods of April, produced by Map Kibera.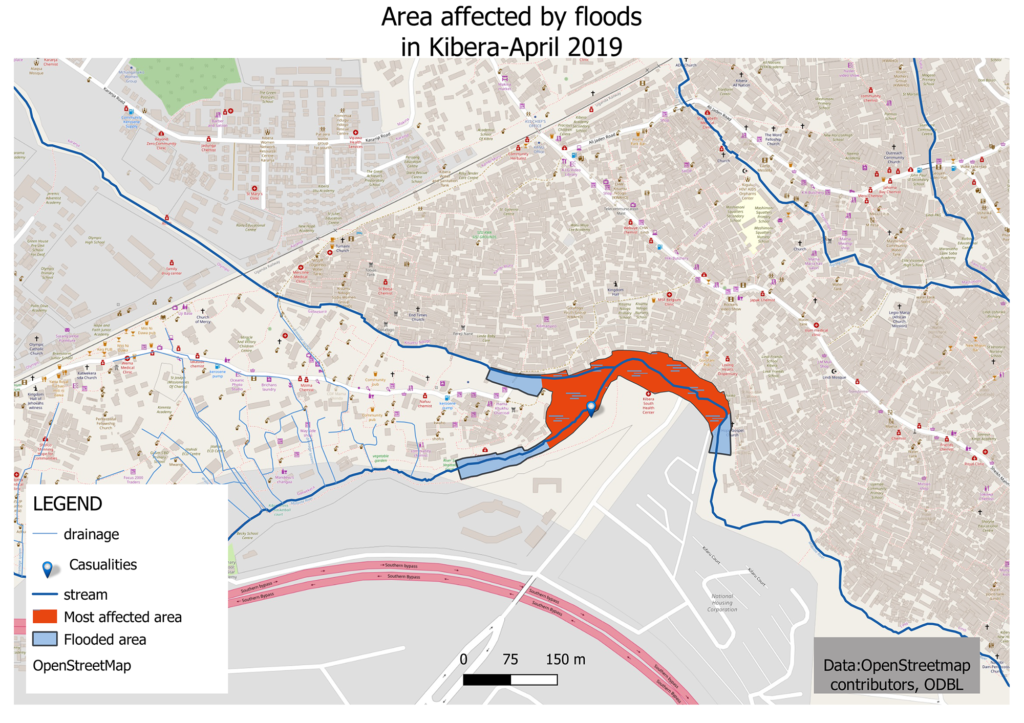 Eyewitnesses said the deceased who were believed to be a woman and her 12-year-old daughter among others were swept away. The mother and her daughter are said to have been visiting a friend when they met the tragedy along the stream banks dividing Gatwekera and Raila villages in Kibera. The mother's body and one unknown girl have so far been recovered in the Nairobi dam and taken to City Mortuary. The 12-year-old girl is still missing.
Samuel Okoth, another resident, came home only to find his house submerged and all his belongings floating on water. He could not save anything and has been left with only the clothes he was wearing at the time.
"Most of our stuff was washed away and up to now, we haven't recovered anything. We are just trying to get rid of the mud that had invaded our houses", stated Felistas Akoth.
Another resident, Bishop Thomas Ogunde, added:  "When it started raining, the water from the pipes also bust out and started filling the stream. The bridge blocked the water which in the end overflowed washing away the houses including a part of my house."
The Redcross was spotted at the scene of the tragedy in an effort to help those who were affected in one way or another.
The Area Chief also visited the scene and according to the eyewitnesses, he addressed those who had been affected by the floods.
The stream banks and the sewer lines in Kibera are prone to floods and mudslides, and it's not the first time residents are losing their lives to floods.