The upgrading program in Kibera has encountered yet another challenge apart from the recent one of allocating only the People from Kibera to their rightful houses instead of the rich taking the advantage.
It has been proven that the same people who where given the opportunity to move from the shanty to the new houses some years ago by the government have started renting the rooms to middle class people.
The initiative of moving people from the the slums to the new flats was one of the key goals set by the government of Kenya. This was one goal meant to reduce slums from the suburb of the capital Nairobi and Kenya at large. The government in collaboration with the United Nations for Human Settlement(UN-HABITAT) had made the dreams of many people in Kibera come true after starting allocating of people to the flats in Lang'ata.
In addition to all these advantages some people are throwing away the opportunity and have started making a living from their well-build decent houses by renting their rooms to other people who are better off.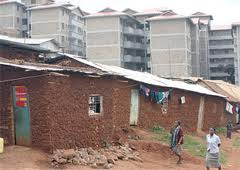 Diskson a resident from Kibera who got a chance to shift to the new houses said, "They charge a lot of money in these houses . Which many of us are unable to pay." They rent Ksh.1000 for a two-roomed house with water and electricity inclusive. Many of the residents who want to go back to the slums complain very much comparing to the rent they used to pay in the houses they used to live and the new ones.
The government recently evicted some of the tenants from their houses because it was believed that they were brewing chang'aa for sale and for a living in the new houses or doing other illegal businesses.
The government is now aware of the practice and has promised to take immediate action for the people who are trying to go against the contract they had earlier signed and those who are doing illegal business with the rooms awarded to them, one way of ensuring that genuine and rightful owners benefit from the project.
Their is also a challenge from residents who claim that Kibera is the land of their forefathers and do not want to move away from the their locations claiming they live together with their extended families and they do not want to lose the rent they charge for the houses they own in the slum.